Manufacturing Technician Apprentice (Level 3), CCORRN
Employer

Tiro

Location

Cambridgeshire

Salary

£5.50 Per Hour (with an opportunity for incremental salary increases)

Closing date

22 Apr 2023
View more
Specialism

Sector

Role Type

Start Date

Duration
Working for Cambridgeshire Community Reuse & Recycling Network
 
Here at CCORRN we believe in helping people and protecting the planet.

We do that by rescuing things like paint, craft materials, food, toiletries and business surplus for creative reuse by the community.

Founded in 2003, CCORRN became an  incorporated association and social enterprise in 2005. We are an impartial, independent organisation dedicated to supporting community reuse and recycling. Our work involves providing eco goods and services that have people and planet at the heart of all we do. We believe in the equality of access to goods and services that are ecologically and financially sustainable. Waste is a resource that with imagination can be repurposed. Second hand should be our first choice. 

 As a social enterprise CCORRN exists for a social or environmental purpose, our income is used to cover the costs of providing our core objectives and any surplus is reinvested in developing more social and environmental impact and local community benefit to those in need.

The Package
At Tiro, we make great things happen for people. And that starts with you. In this role you'll receive:
Starting salary of £5.50 per hour
There will be an opportunity for incremental salary increases subject to successful quarterly reviews
CCORRN believe in providing employees with opportunities for growth and development. That's why they're committed to increasing salaries as soon as you develop new skills.
28 days Annual Leave plus Bank Holidays
Christmas Shutdown! 
Workings hours are 32.5 hours per week (9am - 4pm)
Regular training and CPD opportunities
A company committed to inclusion and diversity 
What will I be doing as an apprentice?
You will be delivering excellent support to The Remanufacturing Team to ensure paint production and redistribution processes and targets are met; by unloading paint and other materials from vehicles, emptying and filling containers, monitoring and cleaning of machinery. Treat all staff, volunteers and customers in accordance with CCORN's vision and values.

Your key accountabilities will be: 
·       Keeping areas clean safe and tidy 
·       Following guidelines as to inputs, quality standards 
·       Opening, emptying, filtering, checking of paint 
·       Setting up, operating, maintaining and cleaning machinery 
·       Adhering to safety requirements i.e.: wearing PPE 
·       Producing paint in accordance with process and recipes 
·       Completing safety data sheets 
·       Moving of stock for storage or shipping 
·       Maintain high standards of cleanliness and housekeeping 

What could the future look like?
There's no limit to what you can achieve if you work for CCORN, with potential for the successful applicant to be offered a full-time position working with the business at the end of the apprenticeship. 
Through 'on-the-job' training you'll have the opportunity to learn new skills to provide competency and responsibility in carrying out testing and to help develop a career as a Science Manufacturing Technician. 
Hard work and determination will be recognised! The successful applicants can expect full training and support. Not only that but the apprentice will have the opportunity to become a registered Science technician (RSci Tech) and apply to become a registered environmental technician (REnvTech). 
Skills, Knowledge, and Expertise
Experience
Whilst previous experience is great, we at Tiro are always open to wildcards. We're not just interested in experience and qualifications; we're looking for someone with the right attitude and aptitude to fit right in at CCORRN.

Qualifications
It's about enthusiasm, not school results. In our experience the most successful apprentices are those who are driven to find out more about the sector, can be up front about what they do and don't already know, are considerate, self-reflective, and impatient to learn the job role!

About You
CCORRN are looking for someone  who can positively contribute to their values, with bags of enthusiasm and a hunger to learn!
 
Even if this doesn't sound quite like you, but you still think you could do a great job in the role, get in touch. We're always open to wildcards.
So how does the apprenticeship work?
At Tiro we're obsessed with changing lives through science and technology apprenticeships so we can't wait to have you on board.

Over 24 months, you'll devote a minimum of 6 hours of your working week on 'off the job' training. This can include theory training (for example, virtual lessons & online learning), alongside practical training (for example shadowing, mentoring, & time spent writing assignments. Together this will count towards a Level 3 Science Manufacturing Technician apprenticeship. You'll be trained by an expert tutor from Tiro as well as an experienced mentor at CCORN who together, will make sure you develop the knowledge, skills, and work habits you'll need to succeed in your career.

Being an apprentice is hands-on, so you'll get the chance to learn things you might otherwise not have experienced in a university or college environment.

The best part? You'll be earning a salary while you gain your qualifications, meaning no huge student loans to pay back at the end of the programme!

Want to know more. Check out the apprenticeship standards here.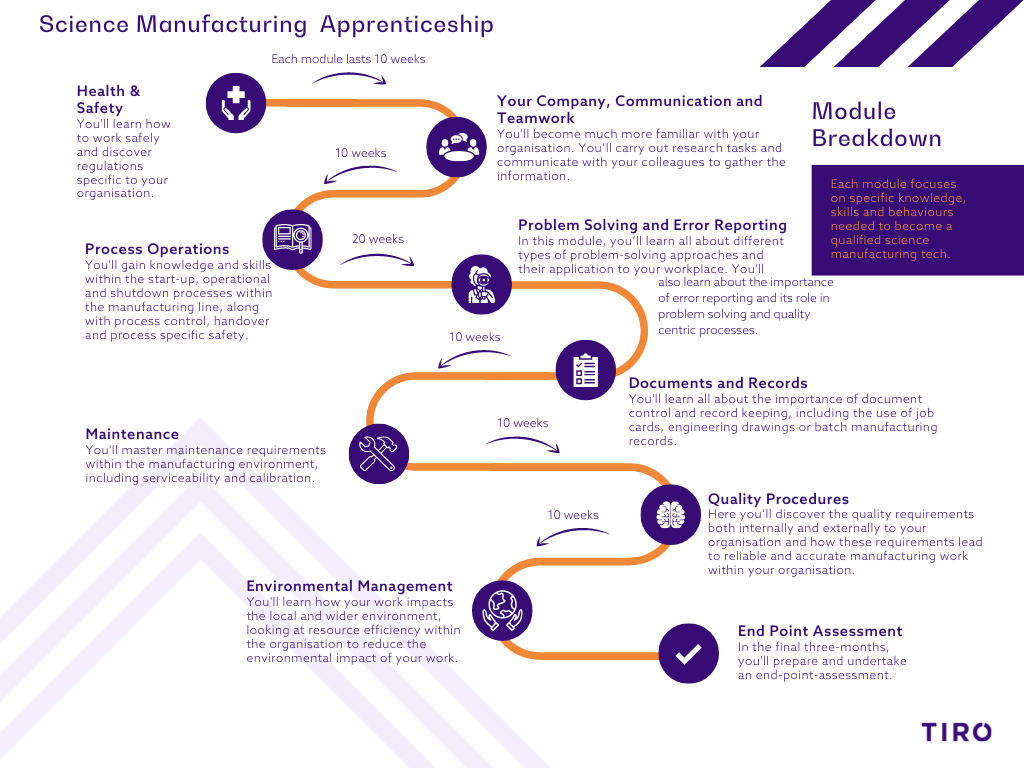 What are the eligibility requirements for an apprenticeship in England? 
To be eligible for a Level 3 (advanced) apprenticeship in England all of the following requirements must be met:
Be 16 years old or over at the start of the apprenticeship.
Not be in full-time education at point of enrolment (including any online courses supported by a student loan).
Be a UK resident for the past 3 consecutive years.
Have the right to work in the UK.
The Department for Education is responsible for setting the eligibility rules for apprenticeships in the UK. In addition to setting the eligibility criteria, the government also provides employers funding to support apprenticeships, including the cost of training and assessment. The funding is available to employers who offer apprenticeships that meet the eligibility criteria and quality standards set by the government. https://www.gov.uk/become-apprentice 
If you believe that you might still be eligible for the apprenticeship, please do not hesitate to contact us by email or phone to discuss your application further. https://tiro.co.uk/contact/
About Tiro
We're Tiro (pronounced 'Tea-ro' as in white, two sugars).
In Latin, it means novice, recruit, apprentice, beginner and soldier. The perfect name for a company that's been helping fearless apprentices to join ambitious businesses since 2005.

We believe that great apprenticeships help everyone. There are remarkable apprentices out there just waiting to be found, and fantastic employment opportunities waiting to be filled.

Our work will never be just about getting bums on seats and pocketing our commission. In our own small way, we're helping to change the world – finding people that are working on COVID vaccines, finding new ways for technology to help humanity and helping to tackle the big issues of the day, like climate change. As well as helping people – young and old – to find their way.
Get job alerts
Create a job alert and receive personalised job recommendations straight to your inbox.
Create alert
-->