Construction Technician Apprentice (Level 3), BAM Nuttall Limited
Employer

Location

Banbury, Oxfordshire

Salary

£19,000 per year (rising to £22,500 in second year!)

Closing date

25 Sep 2023
View more
Specialism

Sector

Role Type

Start Date

Duration
Job Details

Location:  Oxfordshire, OX17 2EX

Working for BAM Nuttall Limited 

BAM Ritchies is the ground engineering division of BAM Nuttall We provide fully integrated services for a wide range of customers – both public and private sector, from small local projects to national critical infrastructure.
 
We were named Contractor of the Year at the Ground Engineering awards 2021, and with over 60 years, we've built a reputation as the go-to ground engineering team for complex problem solving and best-value, sustainable delivery – with no surprises.
 
The Royal BAM Group is one of Europe's largest construction companies, employing 20,000 people globally, with an annual turnover of £7 billion.
 
 Their purpose is to create sustainable environments that enhance peoples' lives.
 
 "We're driven by a desire to deliver outcomes for clients and their customers, in a way that modernises the industry. We use digital engineering, a net zero carbon approach, placing sustainability and great people, at the heart of our organisation. We strive to enhance the lives of people and in the communities where we work." - Ian Parish, Managing Director. 


The Package

At Tiro, we make great things happen for people. And that starts with you. In this role you'll receive:
Starting salary of £19,000 per year, rising to £22,500 in your second year!
22 days annual leave plus bank holidays ( 2 weeks off for Christmas)
2 Wellbeing days per year and 1 volunteering day
Overtime available - uplift for working weekends (a lot of our technicians like to work these shifts for the extra money)
Workings hours are 40 hours per week (plus weekend overtime where needed)
Monday to Friday (7:30 AM-17:30 PM)
On site canteen + kitchen
Opportunity to remain permanent with company after apprenticeship is finished as a laboratory technician with a starting salary of £25,000 per year
Opportunity to progress dependent on performance 
Access online retail discount platform 
Private health care and access to online GP service
What will I be doing as an apprentice?
As a BAM Apprentice you join other apprentices and will be learning from experienced BAM colleagues and will be adding value to the team in no time. We don't require any prior experience as we'll teach you everything you need to know about materials testing in the construction industry; you just need to be ready to work hard and get your hands dirty! This apprenticeship provides great variety as you'll experience life out on site as well as in the lab carrying out testing. 
 
The project you'll be on is The HS2 Project. HS2 is Britain's new high speed rail line being built from London to the North-West, with HS2 trains linking the biggest cities in Scotland, Manchester, Birmingham and London. It is the largest infrastructure project in Europe and the most important economic and social regeneration project in decades. You can find out more here: https://www.hs2.org.uk/
 
This apprenticeship is a unique opportunity to develop a career within the construction sector, offering you the chance to develop skills and specialisations that are highly sought.
 
Within this role you will develop an understanding and knowledge of the implementation of various methods to examine construction materials. Through training and development provided you will work towards excellence in the following areas:
Carrying out sampling and testing of construction materials, soils, aggregates and concrete in line with Standards and customers specification.
Carrying out a point of work risk assessment
Checking that equipment to be used is in calibration and if broken or damaged this is reported to line manager immediately.
Entering and completing on appropriate sheets all records, readings and results that arise from the procedure being carried out.
Communicating clear instructions to site teams based on a thorough understanding of Client specification and expectations
Provide clear and concise data to demonstrate compliance
Carrying out testing using equipment checked for calibration to demonstrate compliance
Delivering daily/weekly work programmes with site teams
Maintaining detailed site diary
Maintaining personal CPD record and CV to demonstrate career development
Carrying out any other relevant duties as requested from time to time.
What could the future look like?

BAM Nuttall Limited are committed to developing emerging talent. Individuals can use the apprenticeship plans to jumpstart a successful career in a skilled industry through on-the-job training and online study. Our goal is to transform you into a fully competent technician, ideally open to accepting a full-time, permanent position within the team, with opportunities for progression in the future. BAM care about your future and will work closely with you to ensure any areas of the business you want to progress into is made possible.   We have many apprentices in BAM who have progressed their careers and are achieving great things in the world of construction. 
The successful applicants can expect full training and support to provide competency and responsibility in carrying out testing and to help develop a career in laboratory testing. Not only that but the apprentice will have the opportunity to become a registered Science technician (RSci Tech). 
Skills, Knowledge, and Expertise
Experience
 
Whilst previous experience is great, we at Tiro are always open to wildcards. We're not just interested in experience and qualifications; we're looking for someone with the right attitude and aptitude to fit right in at BAM Nuttall. 
 
Qualifications
 
It's about enthusiasm, not school results. In our experience the most successful apprentices are those who are driven to find out more about the sector, can be up front about what they do and don't already know, are considerate, self-reflective, and impatient to learn the job role!

About You

The ideal candidate will be reliable and highly motivated. They will have a keen eye for detail and be able to work to instruction. They will be a methodical, accurate person who take a sense of satisfaction from ensuring we get the testing parameters right every time for our customers.

Someone who knows their own mind and isn't afraid to have an opinion. Someone who's genuinely curious about the worlds of science and technology. You'll give the role your all and will fundamentally be hungry to learn and most importantly willing to take the first step into a life changing career.

To succeed in this apprenticeship, you'll need bags of enthusiasm, be a fantastic collaborator and be hungry to learn!
 
Even if this doesn't sound quite like you, but you still think you could do a great job in the role, get in touch. We're always open to wildcards.      


So how does the apprenticeship work?
At Tiro we're obsessed with changing lives through science and technology apprenticeships so we can't wait to have you on board.

Over 21 months, you'll devote a minimum of 6 hours of your working week on 'off the job' training. This can include theory training (for example, virtual lessons & online learning), alongside practical training (for example shadowing, mentoring, & time spent writing assignments. Together this will count towards a Level 3 Laboratory Technician apprenticeship. You'll be trained by an expert tutor from Tiro as well as an experienced mentor at BAM Nuttall who together, will make sure you develop the knowledge, skills, and work habits you'll need to succeed in your career.

Being an apprentice is hands-on, so you'll get the chance to learn things you might otherwise not have experienced in a university or college environment.

The best part? You'll be earning a salary while you gain your qualifications, meaning no huge student loans to pay back at the end of the programme!

Want to know more. Check out the apprenticeship standards here.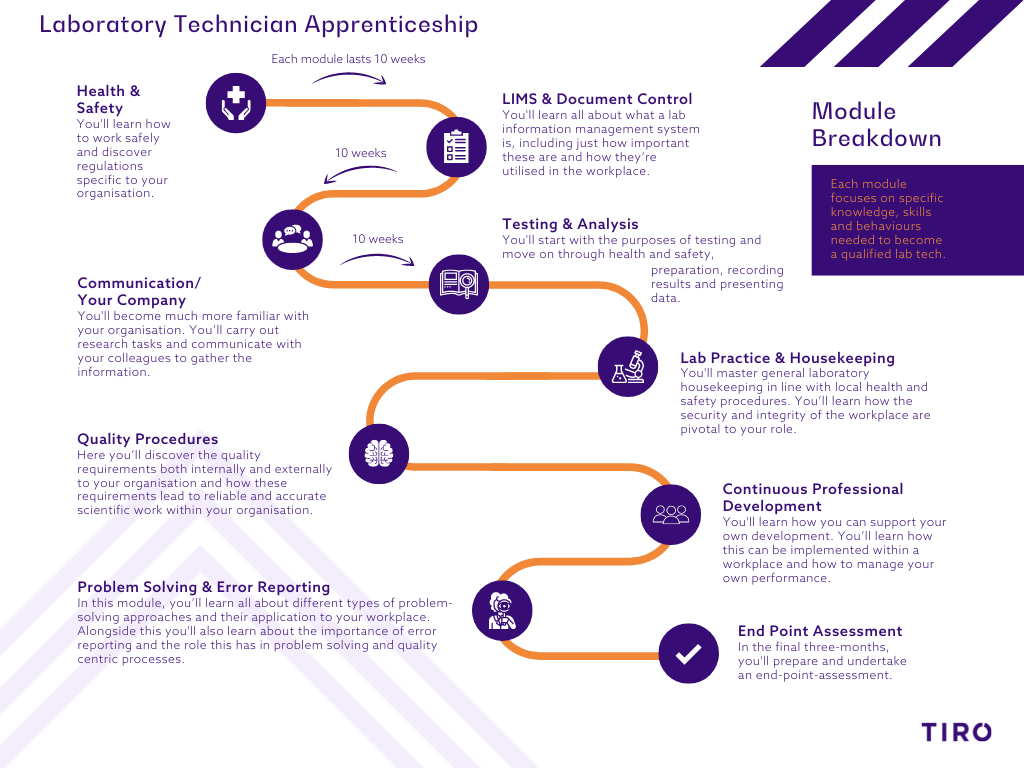 Eligibility
While we never want to hinder your job application process with obstacles, there are some minimum requirements you'll need to meet in order to do an apprenticeship, these are rules set by the UK Government.
For this apprenticeship, you'll need to be over 18, hold a Full UK Driving License, not in full time education, have lived in the UK for 3 years and have the right to work in the UK.
If you don't quite meet these minimum requirements yet, let us know you're interested here and we'll get in touch to discuss this further with you. 
About Tiro
We're Tiro (pronounced 'Tea-ro' as in white, two sugars).
In Latin, it means novice, recruit, apprentice, beginner and soldier. The perfect name for a company that's been helping fearless apprentices to join ambitious businesses since 2005.

We believe that great apprenticeships help everyone. There are remarkable apprentices out there just waiting to be found, and fantastic employment opportunities waiting to be filled.

Our work will never be just about getting bums on seats and pocketing our commission. In our own small way, we're helping to change the world – finding people that are working on COVID vaccines, finding new ways for technology to help humanity and helping to tackle the big issues of the day, like climate change. As well as helping people – young and old – to find their way.
Company
Tiro is a leading training provider for science and technology apprenticeships.
We've been helping hungry apprentices to join ambitious businesses since 2005.
At Tiro, we really believe that great apprenticeships help everyone. An apprentice can re-energise their employer's business by injecting new blood. That's why we only work with the very best candidates.
We're picky about the employers we'll work with too. They have to be prepared to nurture every apprentice. That way, everyone benefits.
How does it work?
As an apprentice, you'll work for an employer while pursuing a nationally recognised learning programme.
You'll spend most of your working time learning the ropes in a hands-on role, with the help of colleagues and mentors. You'll also spend a fifth of your time focused on the formal learning elements.
By the end of the programme, you'll have developed the knowledge, skills, and behaviours you'll need in your chosen field.
Who will support me?
Your expert Tiro tutor will lead you through the learning programme, which combines academic, practical, and technical training. This integrated learning allows you to put theory into practice, both on and off the job.
You'll have a combination of live online training, progress reviews every ten weeks, and additional regular catch-ups. Face-to-face meetings are usually held at your workplace, with video calls in between.
Your 'on the job' training will be overseen by a mentor, who will make sure you are supported and developed at work.
How long will I be an apprentice?
Your apprenticeship will last between one and four years, depending on the programme.
As with most jobs, this will be subject to a probationary period where you'll need to meet certain standards of performance, professionalism, and punctuality.
Some apprentices go on to a higher-level apprenticeship programme once they've qualified, so you could potentially be an apprentice for several years.
Interested in finding out more? Head over to our career page
Take your next step today!
Company info
Website

Telephone

01273 776779

Location

Suite 14D
Faraday Wharf
Holt Street


Birmingham





B7 4BB




United Kingdom
Get job alerts
Create a job alert and receive personalised job recommendations straight to your inbox.
Create alert
-->