Materials Technician Apprentice (Level 3)
Employer

Location

Cliffe Hill Quarry, West Lane, Ellistown, Leicestershire. LE67 1FA

Salary

Starting salary is £15,579 - £21,174 / year (NMW)

Closing date

6 Oct 2023
View more
Specialism

Sector

Role Type

Start Date

Duration
Job Details
Your next step towards your dream career…
As an Apprentice Laboratory Technician, you'll perform laboratory-based specimen preparation and testing tasks for Concrete, Asphalt and Quarry products in accordance with relevant British standards and company procedures.

Key Responsibilities will include:
Knowledge of good laboratory practice
Physical testing of construction materials i.e. Compaction, Density & Strength
Preparation of materials for laboratory testing (i.e. breaking down 20kg samples to pass a 20mm sieve.)
Completion of test sheets, including all calculations
Production of reports in line with QA systems
Undertake tasks in line with Company QHSE protocol

What could the future look like?
Hanson is committed to developing emerging talent. Individuals can use the apprenticeship to jumpstart a successful career in a skilled industry through on-the-job training and online study. Our goal is to transform you into a fully competent technician, ideally open to accepting a full-time, permanent position within the team, with opportunities for progression in the future.
Our goal is to train you in many aspects of material testing and quality control. Hard work and determination will be recognised!
 
Skills, Knowledge and Expertise
We are looking for someone who is focused and meticulous in all aspects of work. Someone who embraces and promotes the values and culture of Hanson by displaying a flexible and committed approach and the ability to work outside normal hour.
You must be a good communicator and team player at all levels, organized, and have an ability to prioritize and make decisions
To succeed in this apprenticeship, you'll need bags of enthusiasm, be a fantastic collaborator and be hungry to learn!
Qualifications
It's about enthusiasm, not school results. In our experience the most successful apprentices are those who are driven to find out more about the sector, can be up front about what they do and don't already know, are considerate, self-reflective, and impatient to learn the job role!  
Experience
Whilst previous experience is great, we at Tiro are always open to wildcards. We're not just interested in experience and qualifications; we're looking for someone with the right attitude and aptitude to fit right in at Hanson.
The Package
At Tiro, we make great things happen for people. And that starts with you. In this role you'll receive:
Starting salary of a minimum of NMW
Workings hours are 40 hours per week, Monday – Friday 7am – 4.30pm
27 days annual leave plus bank holidays
Employee assistance programme
Paid day off to Volunteer every year
24/7 access to an online employee discount platform. Save money on everything from groceries, electronics, fashion, holidays, and much more.
So how does the apprenticeship work?
At Tiro we're obsessed with changing lives through science and technology apprenticeships so we can't wait to have you on board.
Over 21 months, you'll devote a minimum of 6 hours of your working week on 'off the job' training. This can include theory training (for example, virtual lessons & online learning), alongside practical training (for example shadowing, mentoring, & time spent writing assignments. Together this will count towards a Level 3 Laboratory Technician apprenticeship. You'll be trained by an expert tutor from Tiro as well as an experienced mentor at Hanson who together, will make sure you develop the knowledge, skills, and work habits you'll need to succeed in your career.

Want to know more. Check out the apprenticeship standards here.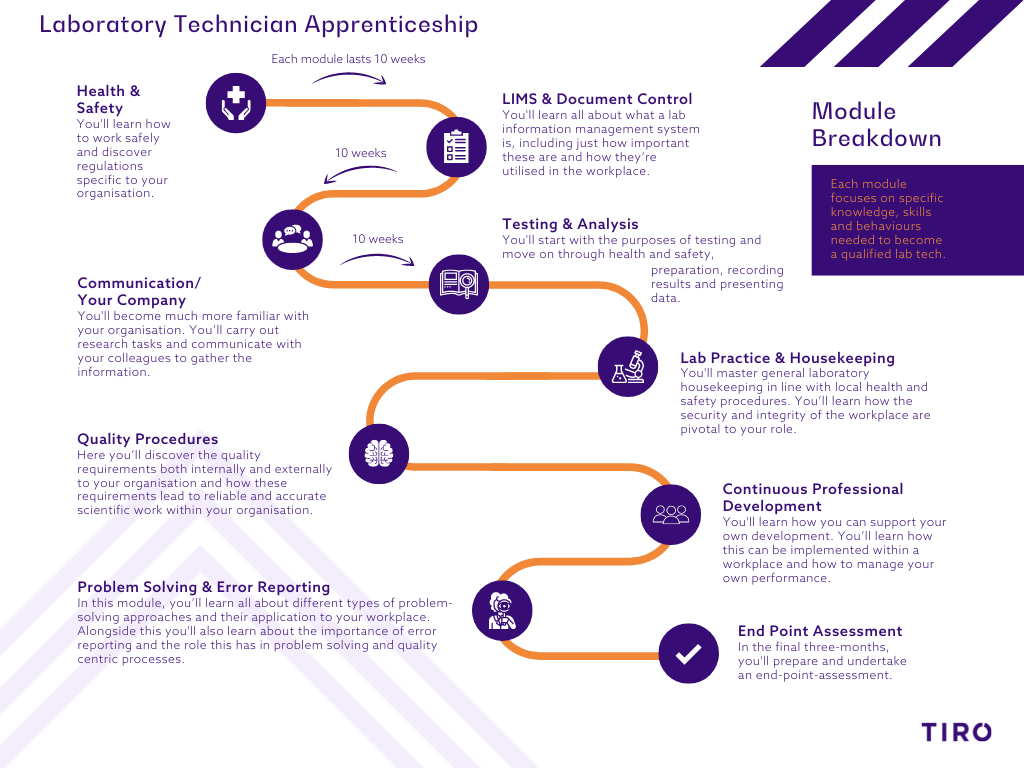 About Tiro
We're Tiro (pronounced 'Tea-ro' as in white, two sugars). In Latin, it means novice, recruit, apprentice, beginner and soldier. The perfect name for a company that's been helping fearless apprentices to join ambitious businesses since 2005.

We believe that great apprenticeships help everyone. There are remarkable apprentices out there just waiting to be found, and fantastic employment opportunities waiting to be filled.

Our work will never be just about getting bums on seats and pocketing our commission. In our own small way, we're helping to change the world – finding people that are working on COVID vaccines, finding new ways for technology to help humanity and helping to tackle the big issues of the day, like climate change. As well as helping people – young and old – to find their way.
Company
Tiro is a leading training provider for science and technology apprenticeships.
We've been helping hungry apprentices to join ambitious businesses since 2005.
At Tiro, we really believe that great apprenticeships help everyone. An apprentice can re-energise their employer's business by injecting new blood. That's why we only work with the very best candidates.
We're picky about the employers we'll work with too. They have to be prepared to nurture every apprentice. That way, everyone benefits.
How does it work?
As an apprentice, you'll work for an employer while pursuing a nationally recognised learning programme.
You'll spend most of your working time learning the ropes in a hands-on role, with the help of colleagues and mentors. You'll also spend a fifth of your time focused on the formal learning elements.
By the end of the programme, you'll have developed the knowledge, skills, and behaviours you'll need in your chosen field.
Who will support me?
Your expert Tiro tutor will lead you through the learning programme, which combines academic, practical, and technical training. This integrated learning allows you to put theory into practice, both on and off the job.
You'll have a combination of live online training, progress reviews every ten weeks, and additional regular catch-ups. Face-to-face meetings are usually held at your workplace, with video calls in between.
Your 'on the job' training will be overseen by a mentor, who will make sure you are supported and developed at work.
How long will I be an apprentice?
Your apprenticeship will last between one and four years, depending on the programme.
As with most jobs, this will be subject to a probationary period where you'll need to meet certain standards of performance, professionalism, and punctuality.
Some apprentices go on to a higher-level apprenticeship programme once they've qualified, so you could potentially be an apprentice for several years.
Interested in finding out more? Head over to our career page
Take your next step today!
Company info
Website

Telephone

01273 776779

Location

Suite 14D
Faraday Wharf
Holt Street


Birmingham





B7 4BB




United Kingdom
Get job alerts
Create a job alert and receive personalised job recommendations straight to your inbox.
Create alert
-->